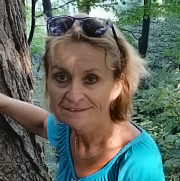 Address : Průmyslová 1306/7, 102 00 Prague 10, Czech Republic
Phone : +420 266 063 303
Mobile :
Fax :
Web : www.kipepeofoundation.org
Email : dagmar@kipepeofoundation.org
Dagmar Šefčíková
In my life I have learnt that many people need a helping hand to have a better life and to fulfill their dreams. If they join in with their efforts and hard work, they can not only fulfill their dreams they can also help others, who were not that fortunate. Not everyone is born to a loving family, not every child has Mum and Dad who could take care of them … And it does not matter whether it is in Europe, Africa or anywhere else on the planet.
It is important to have a dream. Only then you can follow it. I would like to help people find their dreams.
Dasha is a financial director of an large corporation. She has a weath of experience in accounting, controlling, taxes and financial management. In her spare time she likes to replace her intellectually demanding work with light sport activities such as mountain hiking, or just stay completely idle in a warm ocean. She enjoys mushroom picking, she loves cooking and trying new recipes which she collects on her travels.